A Testimony of Friendship trough COVID-19 Vaccine – UK Donating 415,000 Doses of AstraZeneca Vaccine to Thailand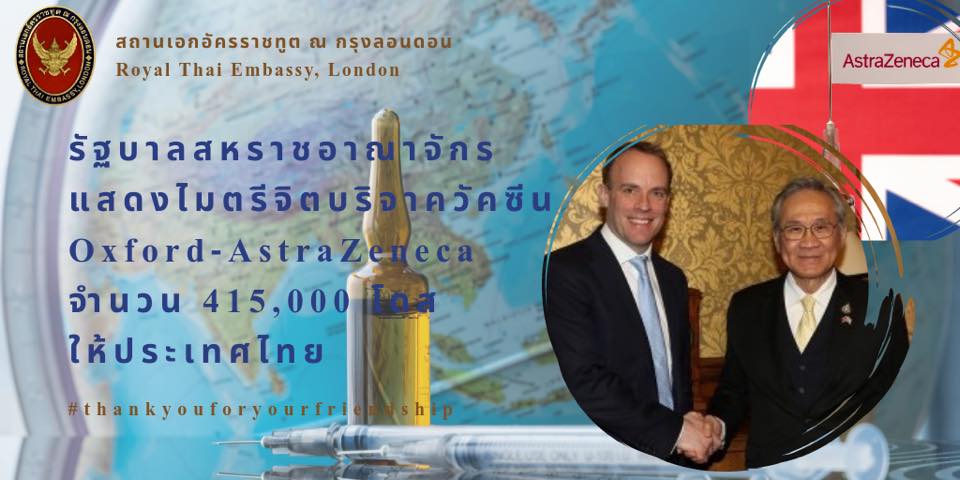 On behalf of the Thai people, the Royal Thai Embassy, London, wishes to express our sincere gratitude to the UK Government for donating 415,000 doses of the Oxford-AstraZeneca vaccine to Thailand. The delivery of these doses are due to arrive Thailand very soon.

This donation is part of the UK's commitment to deliver 9 million COVID-19 vaccines around the world to help tackle the global Covid-19 pandemic, with 5 million doses offered to COVAX and 4 million doses directed to affected countries.

Thailand is one of the UK's friends to receive these vaccines directly. This is a testimony of cordial traditional ties between the two Kingdoms, and the strategic partnership in health that reaps direct benefits to the people and humankind.
https://www.gov.uk/government/news/uk-begins-donating-millions-of-covid-19-vaccines-overseas?fbclid=IwAR00EmFBpMvc-1P4DXjlxuV1rz1MtlRfqwjIr5uuDaNksQcdmEIql-tUScA