On 20 May 2021, Ambassador Pisanu Suvanajata, joined Ambassador Tony Cotter of Ireland to Thailand in the webinar entitled "Global Rise of Asia: Thailand's Webinar" organised by Asia Matters in partnership with Turkish Airlines.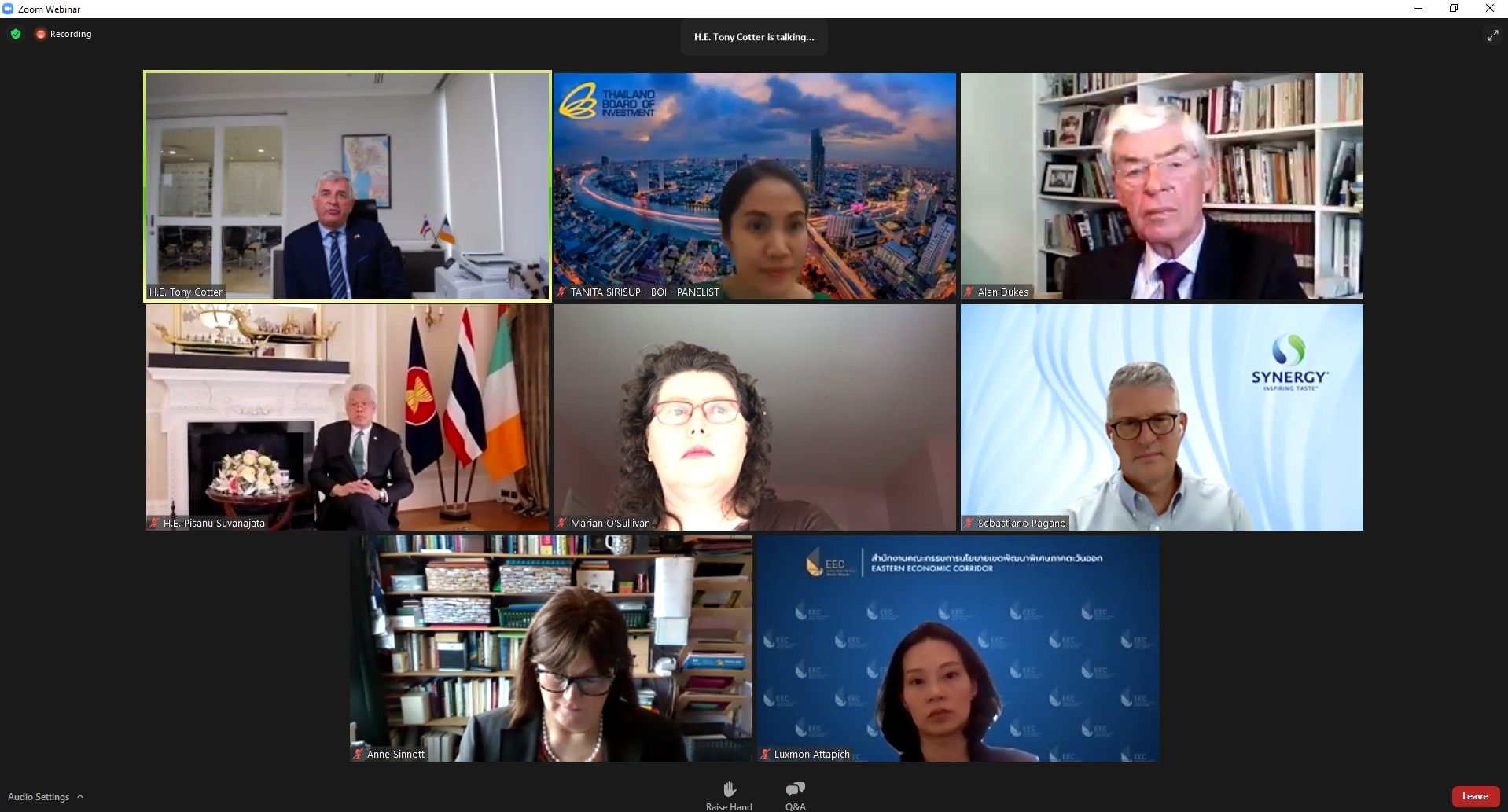 Ambassador Cotter expressed his confidence on Thailand's effective COVID-19 management and promising prospects for successful recovery. Thailand and Ireland have a strong foundation to build on an advanced partnership in economy, education and health. Irish businesses could further utilize Thailand as a gateway to the region.
Ambassador Pisanu reiterated that Thailand is on track for recovery, with the recent surge of COVID as a mere temporary interruption to the path towards normalcy. Public investment projects in Thailand's infrastructure to drive forward Thailand 4.0 are still moving ahead as planned, which would help develop Thailand's logistical network more efficiently, domestically, and regionally. These large-scale infrastructure developments present vast potentials for foreign businesses and investors, including Ireland, enabling the investments to be worthwhile, profitable and geared towards a wider market, not only for Thailand but for the region and the global market.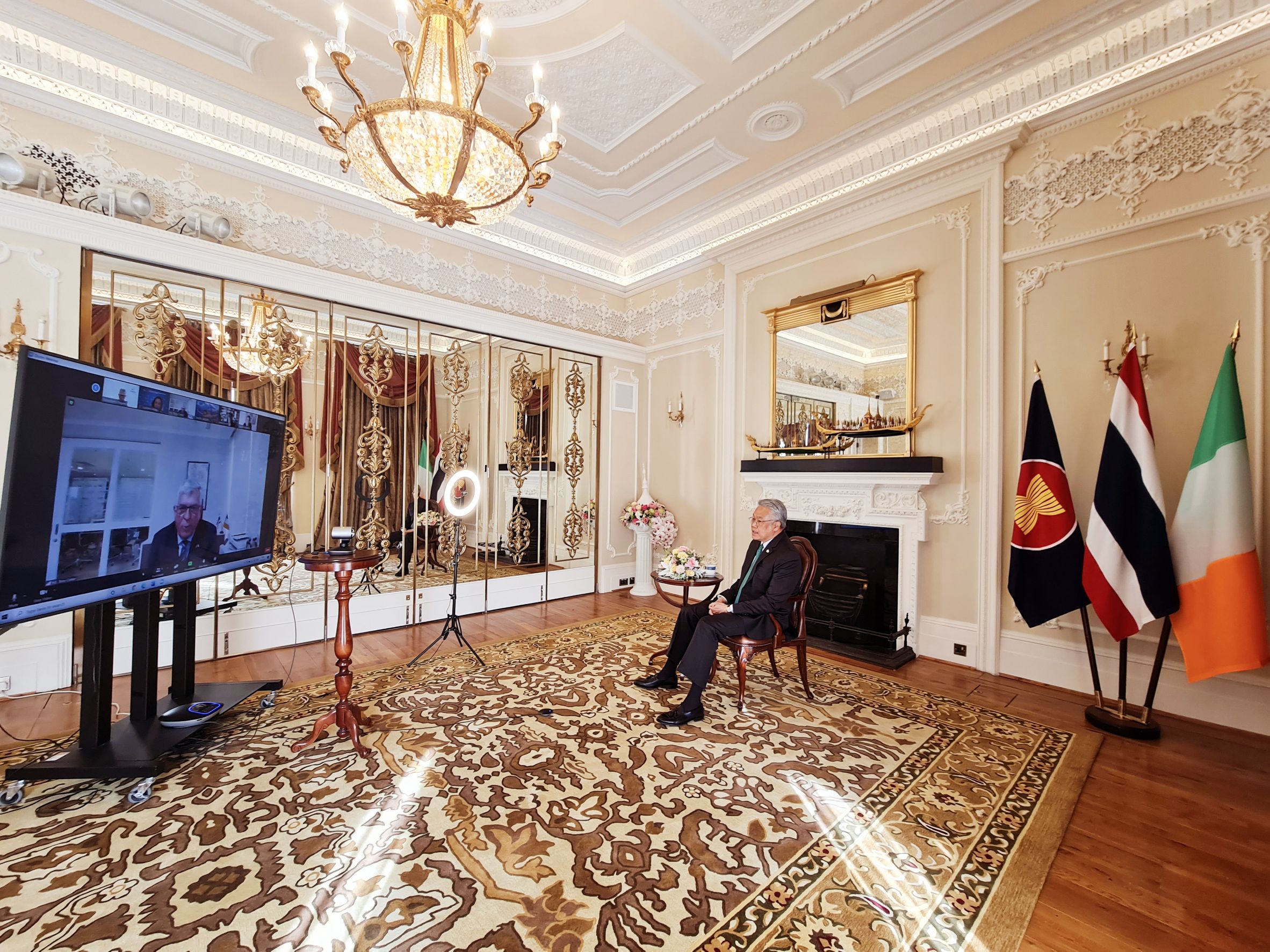 Ambassador Pisanu pointed out the direction in which to adapt in order to drive forward Thailand's economy according to the global megatrends in post COVID times, or the "4Ds". (1) Derisk : the reduction of risk and the reinforcement of human security, in terms of food security and future pandemic preparedness. Thailand is, therefore, ready to become an emerging global production hub for sectors such as pharmaceuticals and vaccines as well as food for the future. (2) 'Decentralisation' of the global value chain. Thailand stands ready to become the production base for the global supply chain, especially for sectors that Thailand is already highly skilled in as well as add value to all other relevant industries. (3) Decarbonisation in areas such as greenhouse gas reduction and green businesses. In striving towards a greener economy, Thailand will be upskilling and refocusing on manufacturing electronic vehicles (EV) instead of combustion-engine vehicles. (4) Digitisation: Thailand's advancement in disruptive and cutting-edge technologies will raise its competitiveness in the digital age. Future partnership opportunities for Ireland could be among others, smart food, food for the future, health and medical technology, parts and computer control for electric vehicles, Fintech, as well as upskilling/reskilling the Thai workforce through education and capacity-building in order to handle any future challenges.
The business expert panelists, including
(1) Dr. Marian O'Sullivan, Director-General, Institute of Public Administration
(2) Ms. Anne Sinnott, Deputy President, Dublin City University
(3) Mr. Sebastiano, CEO (Asia) Synergy Flavours
(4) Dr. Luxmon Attapich, Deputy Secretary General, Eastern Economic Corridor (EEC)
(5) Ms. Tanita Sirisup, Executive Director, Board of Investment of Thailand, discussed success stories of partnerships in education, capacity-building and Thailand as a regional gateway for Irish businesses. The panel encouraged Irish businesses to engage sooner rather than later to advance partnerships post COVID.